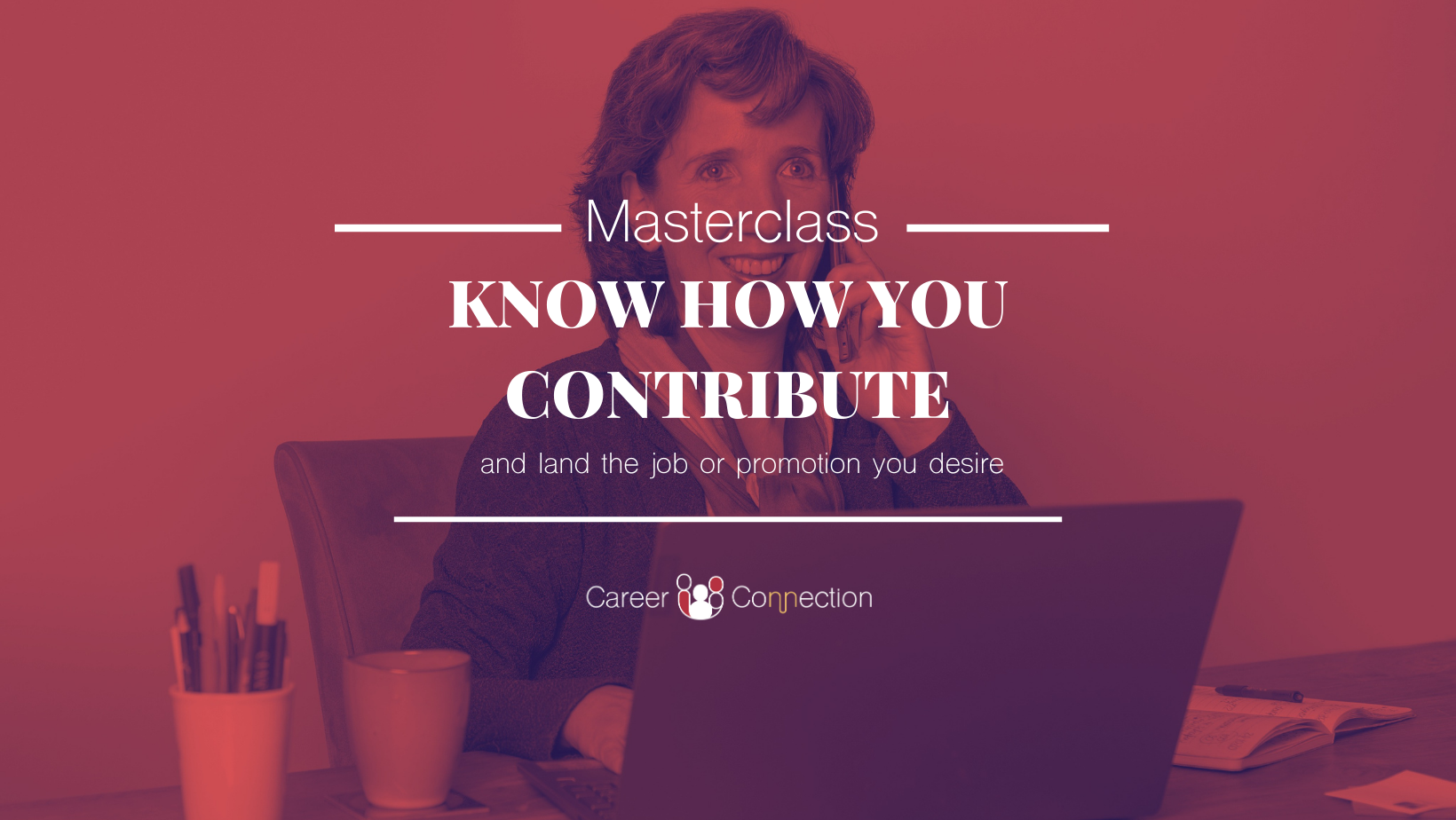 Date & Time
Monday, May 3, 10 and 17,
20:00 – 20:30 hrs –


Amsterdam Time Zone
How do you contribute?
It is one of the first questions you when your feel ready to take the next step in your career.
 WHY?
When job searching or when asking for a promotion, you want to bring across the table how you add value to a team and the company goals. All performance reviews and interview questions are based on knowing yourself. You want to do this with confidence and ease.
Know how you (want to) contribute and how you add value to the team just by being you is hard to put to words for most of us. When I ask my clients this question all of a sudden they start to stutter, simply because they never thought about it. And if you never thought about this, how can you bring it across the table when asked?
We tend to just move on without reflecting on what we think is the best step for us. We end up doing things we don't actually like or we realize we don't know what the best next step is for us. But let me tell you this: If you know your preferred way of operating and know how you (want to) contribute – you will end up in an environment that suits you. It will support you in finding a job that suits you. It will support you to flourish in your job.
What will you learn?
You will learn a method you can re-use over and over again to determine your preferred way of operating.
You will get to know how you contribute to success within a team.
You will define what competencies you would like to use in a new position and what things you would love to leave behind.
Finally, we will focus on how to bring this across the table. To secure a job interview invite or get the
Now is your time.
Join me to take your next career move on your terms.
This time it's for free.
Can't join me live? Sign up anyway, we will send you a replay.
Your speaker
Marielle Obels
Hi, I am Mariëlle Obels, Licensed Career Coach and experiential expert on every aspect of the job searching and hiring process, on both ends of the table.
During this training, I want to support you to feel comfortable and confident to convey your message and answering the questions asked and land a job offer or a desired promotion.

Contact me
not sure if this is the right event for you?
Want to know more about this training or me before your register: Please do schedule a call using the scheduler below. I look forward to meeting you.
Get your free ticket now!