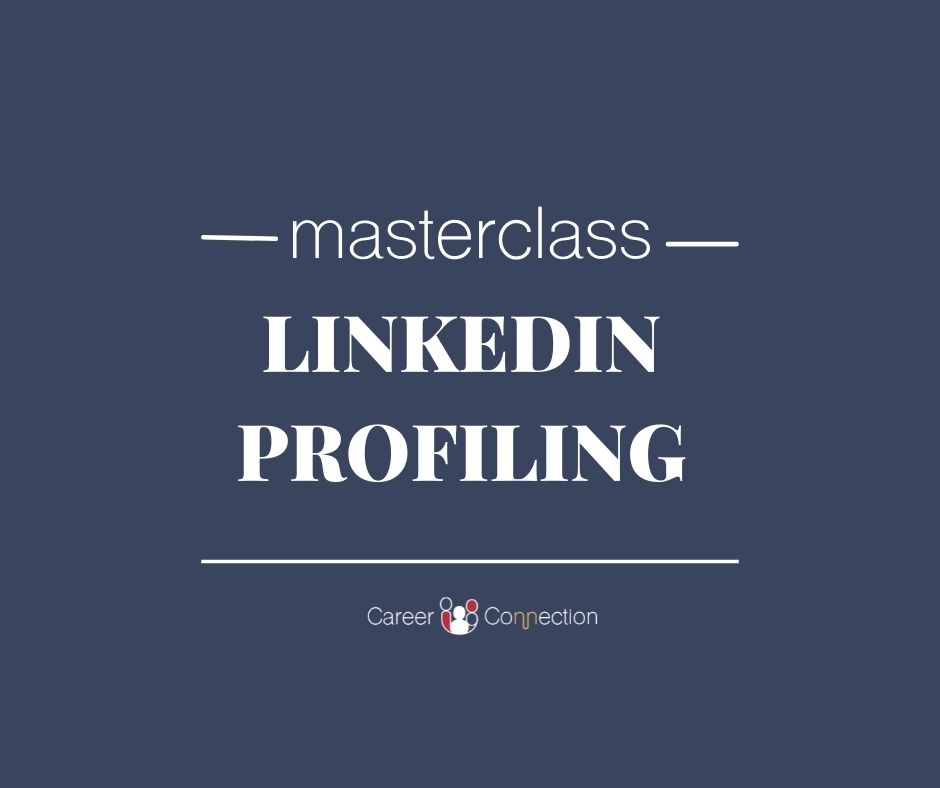 Date & Time
Thursday, September 22,

7:30 – 8:30 pm –

CEST 
Price
Free for Academy Members
75 euros for non-members
Learn how to build a recruiter-attracting LinkedIn Profile and build momentum to land the job you desire.
Everyone told you LinkedIn is THE platform to be active on when job searching or pivoting your career but how come it doesn't seem to work out for you yet? Join me on September 22 next if you would like to know how to optimize your LinkedIn profile and make it work for you.
Perhaps you recognise this:
You have a LinkedIn Profile but that's about it. You don't know how to tweak it to attract the attention of recruiters or hiring managers in your area of expertise
You wonder: What is an excellent LinkedIn profile and how can I show people what I have in store?
You wonder if just having a LinkedIn profile is enough to do the job?
You feel you have a LinkedIn profile that shows exactly what you are all about but it doesn't deliver the expected outcomes. You wonder how to optimize your LinkedIn profile so it increases your visibility
You wish to have more interactions and conversations with people who know what is important within your area of expertise, industry and the companies you would like to work for. But how and where to start?

If you struggle with these questions, this Masterclass is especially for you.
What you really want is to receive positive feedback on your LinkedIn profile and presence.
You want to show people you are the expert to go to. You wish to receive invitations to connect that will help you land the job you desire.
LinkedIn is an amazing tool to use when job searching in the Netherlands if you use it wisely. This all starts with your LinkedIn Profile. After we spoke about the LinkedIn Essentials last May – now is the time to deep dive into setting up a LinkedIn Profile that will attract the attention of recruiters.
If I can do it, you can do this as well. In just a few simple steps, you can build a recruiter-attracting profile with ease. It is no rocket science, and I'd love to show you how to make this work for you.
Your speaker
Marielle Obels
Hi, I am Mariëlle Obels, Licensed Career Coach and experiential expert on every aspect of the job searching and hiring process, on both ends of the table.
Wouldn't it be amazing if a company approached you instead of vice versa? This is what effective networking can do for you. 
I believe being on top of the mind of your new colleagues is important to create your job search success. Networking will help you to be just that: On top of mind.
What you will get:
I'll show you the steps to build a recruiter attracting LinkedIn profile following the LinkedIn algorithm.
You will learn what makes a LinkedIn profile stand out from the crowd
After analysing the optimization points of your LinkedIn profile you will define new ways to turn these pain points into success factors
You will learn what recruiters can see and can't see when using the various "open to work"- options including the pros and cons of using these options
You will learn what to do to show up in the search results aka the main points the algorithm used to decide upon.
The Masterclass includes a cheat sheet and/or workbook to continue with afterwards. There will be plenty of room to share experiences and ask your questions on this subject.

This Masterclass is especially meant for you if you:

Would like to know more about how to set up LinkedIn and use it actively in your job search
Would like to create more exposure in less time with more ease and less stress
Would like to receive practical tips on how to set up an excellent LinkedIn profile that works for you.

The Masterclass takes place on September 22nd at 7:30 pm. CEST The Masterclasses will be recorded and will be uploaded to the online environment after the event took place. Together with all the supporting materials, checklists, cheat sheets and whatever comes along with this Masterclass. Pro and ultimate members don't have to register, just click on the ZOOM link within the Career Connection Academy. Not a member but wish to join? Join the Career Connection Academy Membership today and don't miss out on any opportunities to build on the next step in your career journey. It will only cost you 25 euros. Grab all information about the membership programme and the Career Connection Academy over here.
Contact me
not sure if this is the right event or programme for you?
Want to know more about this training or me before your register: Please do schedule a call using the scheduler below. I look forward to meeting you.